Landscapes - Special Wildlife Edition 2007
Shooting for 240 - B&C, That Is
Scientific deer breeder Vernon Mosley raises cattle and cutting horses and grows timber, but it's his genetically outstanding deer herd that pays the bills.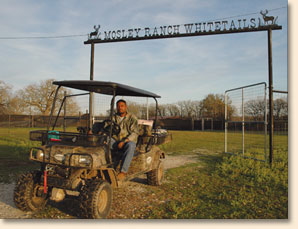 It's early morning in East Texas — the kind of crisp, sunny winter morning on which you want to get things done — and Vernon Mosley Jr. is anxious to get on with the day. This morning he's headed to the nearby town of Palestine to pick up a four-wheeler.

But as he starts to lock up his office, the phone rings. Mosley answers it, jots down some notes, and grabs a blue tackle box and a rifle before heading out the door.
The four-wheeler will have to wait.

First, Mosley must tranquilize two white-tailed bucks found tangled in a barbed wire fence on a neighboring ranch.

"I'm the only person in the area with a dart gun," he explains later. "It was a coincidence that they called when they did because the deer were on my way (to Palestine). Those bucks would have died. There's no way they'd have gotten loose by themselves."
Diversifying Into Deer
Mosley, who owns a 1,832-acre ranch southwest of Crockett, is well versed in the use of dart guns. That's because he sometimes uses one in his primary business: deer farming. Permitted through the Texas Parks and Wildlife Department (TPWD), Mosley breeds and sells white-tailed does (both bred and "open"), breeder bucks and some fawns. He also markets hunting packages that include a personal guide and overnight lodging at Mosley Ranch.

A savvy businessman who can't seem to sit still for long, Mosley runs cattle and horses on his land, too. In addition, he tends 1,200 acres of loblolly pines for timber production. It's the deer operation, though, that pays the bills.

"You just can't make money in the cattle business anymore like you do with deer," he says.
Getting Started
A few years ago, Mosley knew little about wild deer. Now he keeps meticulous spreadsheets on deer mating, maintains a deer-handling facility and monitors a herd of more than 200 white-tailed deer, all registered with the Texas Scientific Deer Breeder Program.

Across the state, more than 1,000 scientific deer breeders hold permits with the Texas Parks and Wildlife Department. All breeders aspire to develop the kind of genetics in their animals that will produce record-breaking antlers, for which hunters will pay thousands of dollars.

Mosley's interest in starting his own deer farm evolved not long after he bought the first 972 acres of his East Texas ranch in 2000.

"My family and I owned several pieces of property near Trinity, where I was raised," he explains. "We wanted to consolidate and put all our livestock in one place. A friend of mine who's in real estate had this place listed. It had plenty of pasture for cattle. The first few months after we bought it, I saw a lot of deer. Another friend of mine has a fencing business, and he recommended that we high-fence the property. So we did. Then I went to several deer breeders and bought five registered bucks to put inside the fence."

"I spent about a year looking at other deer-breeding operations, and that's when I got the bug," he adds.
Financed by Farm Credit
Financed by Capital Farm Credit, Mosley purchased 20 registered does and two bucks in 2002 from several top breeders, including prominent East Texas deer breeders Billy Powell and Leo Hicks. He also built a deer-handling facility and 12 high-fenced pens. He has since added nine more pens, each ranging in size from 2.5 to 4 acres.

"Capital Farm Credit is very easy to work with, and their interest rates are right on the money," Mosley says. "My loan took just a few weeks to get."

Tommy Bland, senior vice president and branch manager at Capital Farm Credit's Madisonville office, admires and respects Mosley, who's only 27 years old. "I believe and know that Vernon is an excellent young businessman, who has a great future ahead of him," he says.

Mosley's love of animals and ranching runs in the family, a connection that made it easier for him to work with wild deer. His mother, JoAnn, lives on and takes care of land the family still owns in Trinity. Vernon Sr., who died last fall, ranched for a living.
Comparing Whitetails to Brahmans
"I was raised around animals all my life — goats, cattle and horses," Mosley says. "I showed a few steers and heifers in high school. Dad raised Brahman and Hereford cattle. Whitetails are just as wild as Brahman. So if you know a Brahman mindset, you can deal with a whitetail."

Back at the ranch office, Mosley and a visitor climb into an electric cart that's worn with use and muddied by recent rains. The pair rides a short distance along a dirt road that ends at a high-fenced compound. Above the gate, an entrance sign — framed with steel poles and sporting silhouettes of white-tailed bucks — reads "Mosley Ranch Whitetails."

Past the entrance and more gates, Mosley slows to a quiet stop inside a 4-acre pen, where a small herd of does scurries to the other side, then pauses to peer curiously at the cart. Among them stands a lone buck. Attached to his left ear is an orange tag bearing the number "1." A heavy set of antlers arches gracefully from his head.
Handling Deer
"That's Dinero, one of my breeder bucks," Mosley says in a low voice. "He's three years old and already scoring 240 (Boone and Crockett Club score). I check the pens twice a day. Deer can get sick quick, so you've got to watch them pretty close."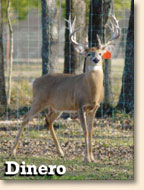 While the rancher talks, several does cautiously move toward the vehicle, their big brown eyes wide and alert. "They're naturally curious animals," Mosley notes. "Anything strange or different and they have to check it out. Leave a bulldozer out at night, and there'll be deer prints all around it the next morning."

The cart noiselessly moves forward. Next stop on the tour: the handling facility, where deer are medically treated, quarantined in secluded pens when necessary and gathered for transportation to buyers. In an open work area, dozens of antlers cover the concrete floor and two extra-wide tables. Mosley explains that antlers must be sawed off to prevent injuries when bucks are penned together.

Much like cattle chutes and corrals, the handling facility includes a deer chute that funnels a deer into a green metal Deerhandler. The mechanism securely and safely grasps an animal during such procedures as artificial insemination, antler removal, vaccinations and de-worming.
The Rest of the Ranch
Back at Mosley's office, he and his visitor climb into his white pickup for a tour of the ranch's remaining 860 acres. Down the highway, then past a high wire gate, the truck bumps along several miles of caliche road, passing stands of loblolly pines and a fiberglass deer blind, one of 20 available to hunters on the ranch.

The road ends at Mosley's comfortable two-story lodge with a wraparound porch. The log cabin–style house accommodates up to 11 guests; more can sleep in a nearby bunkhouse. Both overlook a 13-acre reservoir, one of the ranch's many lakes and ponds that are stocked with Florida hybrid bass and crappie.

"A lot of people come here just to fish and stay in our lodge," Mosley explains. "We also host youth groups and church retreats. We've got a paint-ball course, a game room in the lodge, and two small boats, so there's plenty to do."
Special Treatment for Deer Patients
The sun's nearly down, but Mosley still has work to do. He and ranch hand Julio Flores must treat two bucks they've noticed limping. Mosley gets his dart gun and the blue tackle box. "It's one-stop shopping for any sickness," he says of the box, which is filled with medications, antibiotics, de-wormers and vitamins.

A skilled marksman, Mosley tranquilizes the animals, which are then blindfolded, loaded onto a small trailer and taken to the handling facility. There, the men work quickly, trimming hooves and administering medications. After they're done, the bucks will remain overnight in sick pens.

"They'll be just fine in the morning," Mosley says, before bidding his visitor good night and slipping into his office.

Right now, it's time to get back to the phone.

For more information, visit www.mosleyranch.com.
Deer-Breeding Requires Strict Record-Keeping
From marketing to accounting, Vernon Mosley Jr. handles the business side of his scientific deer-breeding business himself.

"After I'm done outside for the day, then I come inside to return phone calls and answer e-mails," he explains. "Most of our business comes from our Web site."


Paperwork and record-keeping consume much of his time. Each animal must be tagged and registered. Individual files include pedigrees that list sires and dams going back several generations.

"Every time we move a deer, we have to fill out a form and fax it to authorities for approval," he says. "We also have to file an annual deer inventory to the Texas Parks and Wildlife Department and an annual report to the Texas Animal Health Commission for their CWD (chronic wasting disease) monitoring program."

Developing genetics also requires knowledge and time. "Our bloodline is three-quarters Texas and one-quarter northern from Illinois and Ohio," Mosley says.""At first our deer were 170 (B&C), then 180 and 190. Now we're trying to get 220 and above. In a few years, we should get 240."

"In fact," he adds, "right now I have a 240 buck — Dinero — that has 30 points. A friend of mine told me, 'Man, people write songs about 30-point bucks!'"
Article and photos by Sheryl Smith-Rodgers
Farm Credit Bank of Texas